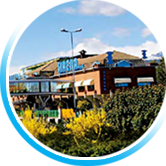 Sirena, founded in 1974 by Alberto Garnerone from a family tradition dating back to the 1930's, started producing horns and electro-mechanical sirens, expanding the range in the 1980's to include electronic sirens, rotating beacons and work lights.
Today, Sirena is one of the most important manufacturers of audible and luminous warning devices offering an extensive range of products in two main market sectors:
• SIGNALING: automation, robotics, control panels, explosion proof, safety
• AUTOMOTIVE: agricultural vehicles, earthmoving machines, industrial vehicles, emergency and priority vehicles
The Company spreads over an area of 40.000 sq.m. divided in two locations situated
two kilometers from each other. Sirena has the capacity to produce over 2.000.000 pieces/year handling over 150.000 codes.
Sirena has an extensive distribution network both in Italy and abroad, distributing all types of signalling devices efficiently and rapidly to the industrial and automotive markets.
Our main objective is customer satisfaction, to supply quality products promptly and to assure an efficient pre and post sales service. To this aim, the Company's Quality & Handling System has been certified according to UNI EN ISO 9001:2008 requirements.
Sirena's mission is to conduct its activities according to an integrated management system relating to environmental sustainability (aimed at prevention and improvement of all that has an impact on working environments) as well as to health and safety at work.
To reach these goals we obtained the UNI EN ISO 14001:2004 and BS OHSAS 18001:2007 certifications.
Sirena's in-house Research & Development Centre follows constantly the most recent technological innovations, developing ranges of products with the use of up-to-date electronic components and the latest generation light source technology thus allowing us to meet the ever-demanding developments in the market.
"Safety….Sirena's daily commitment since more than half a century"